Rayo Vallecano: the best interceptors in Europe
Rayo Vallecano are a fairly unremarkable club. Competing with Getafe to be Madrid's third biggest side, their most newsworthy recent story has concerned their financial problems.
More positively, they have a reputation for attracting some of the noisiest fans in La Liga, with their ultras gathered behind the only end of the ground that boasts a stand – the opposite end is simply a wall covered up by advertising hoardings, with a couple of high-rise apartment blocks behind.
But there's something that Rayo are better at than any club in Europe's major five leagues (Spain, England, Italy, Germany and France). They complete more interceptions than any other side, 39.2, per game. (All stats here from WhoScored).
Intercepting the ball has become increasingly important with recent years, with tackling more difficult than ever due to strict refereeing. As noted previously, the number of interceptions per match is on the rise, whilst the number of tackles per match declines almost every year. Xabi Alonso said late last year that tackling shouldn't be regarded as a positive thing:
"I don't think tackling is a quality…it is a recurso, something you have to resort to, not a characteristic of your game…I can't get into my head that football development would educate tackling as a quality, something to learn, to teach, a characteristic of your play. How can that be a way of seeing the game? I just don't understand football in those terms. Tackling is a [last] resort, and you will need it, but it isn't a quality to aspire to."
From an interview with Sid Lowe in the Guardian
Instead, Spanish football places a large emphasis upon intercepting. From WhoScored's statistics from the major five European leagues, 18 of the top 20 interceptors in Europe come from La Liga. The only two missing are Barcelona and Real Madrid, presumably as they have so much possession they don't need to win the ball back so often.
For such a key part of the game to be perfected by the side currently sitting 13th in La Liga is odd, and it becomes more bizarre when you look at other key Rayo statistics. They see a lot of the ball – 51.3%, the 8th highest in La Liga. You can only intercept the ball, of course, when the opposition have possession, so one wouldn't expect Rayo to be so good at this aspect of the game when they generally dominate the ball.
They also have an excellent record in terms of conceding shots. Only Barca, Real and Malaga concede fewer shots than them, the same is true of shots on target. Yet despite this, and the prolific rate of interceptions, Rayo concede a lot of goals, the 5th most in the league.
So why do they complete so many interceptions? First, the mentality of the team is geared towards winning the ball quickly. The side pushes high up the pitch, with the forwards starting the pressure and generally forcing the opposition goalkeeper and defence to hit the ball longer. In Spain, forward balls played in the air are relatively rare compared to in England, France or Italy – therefore even the longer balls are played along the floor, which are inevitably more likely to be intercepted along their course.
Rayo's midfield combination is interesting. In a broad 4-2-3-1 system, the two holding players are particularly defensive minded. Javi Fuego plays a very deep role, as a 'centre-half', looking to drop into defence as an extra centre-back if necessary. Meanwhile, Jose Movila plays around ten yards higher up the pitch, but in a strict ball-winning role. He charges acrosss the pitch like a terrier to protect the five players behind him, and wins the ball more frequently than any other Rayo player.
To have two ball winners in a 4-2-3-1 is hardly a revelation, but given the increasing tendency to have a flexible double pivot ahead of the defence, often with two technical players taking it in turns to go forward, it makes Rayo different to many other teams in Spain. To liken those two to more established players, Fuego plays the Sergio Busquets role, Movila is more like Rino Gattuso.
But just because this part of the side is fairly negative, it shouldn't detract from the fact those two players play higher up, in heatmap terms than they would in many sides, because the whole side plays high up.
The centre-backs also contribute to the high rate of interceptions. Jordi is the left-sided centre-back, Alejandro Arribas plays to the right. They track the opposition forward very closely, happy to switch sides to prevent having to pass the marking responsibility on. When the ball is played into the striker's feet, the centre-backs try to get in ahead of him – Jordi is particularly adept at this.
Another clue lies in the use of substitutions. In Sunday's 2-1 win over Getafe, José Ramón Sandoval brought on two extremely energetic players in the second half to continue pressuring high up. Lass, an energetic wide forward, came on upfront and ran his legs off, constantly moving laterally across the pitch to close down the centre-backs. There was also a debut for young Pepe Maly Diamanka in the centre of midfield – he also chased relentlessly, often late with his tackles and not making interceptions himself, but forcing opponents into hurried, misplaced passes that could be picked up by others.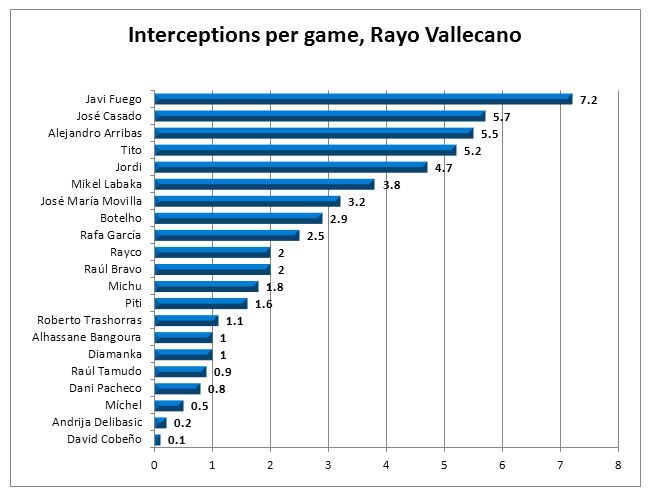 It was notable that these two young players replaced Rayo's oldest two outfield players – 36-year-old Movila and 34-year-old striker Raul Tamudo, who couldn't run much in the second half. Rayo are keen to keep energy levels up.
It's also worth considering the impact of the fans upon Rayo's game – they are amongst the noisiest and most passionate in La Liga, which surely inspires a more energetic game than when playing in front of rows of empty seats.
As mentioned previously, Rayo's high rate of interceptions is not necessarily a positive thing on the whole. In a sense, they seem to share many traits of Andre Villas-Boas' Chelsea side – they press high up and concede few shots, but those shots are often one-on-ones after the ball is played in behind the defence, which means they concede more goals than those stats would suggest.
Their win over Sevilla was their first in five games, and they remain in the bottom half of La Liga. Still, in terms of interceptions, no other club in Europe can match them.
Related articles on Zonal Marking: