Chelsea are being outpassed more regularly in recent matches
One of the most interesting developments of the Premier League so far this season has been the strategy of Andre Villas-Boas.
He took over on the back of a highly successful season at Porto where he had a very specific way of playing. He tried to recreate that at Chelsea and did so with some success, though he also encountered problems with his defensive line, particularly in the defeat to Arsenal.
In recent weeks he appears to have adapted his approach to suit the players he currently has at his disposal. The home game against Valencia saw Chelsea sitting much deeper and playing the 'old-fashioned' Chelsea way. Villas-Boas admits that he has adapted some aspects of his game, particularly in midfield.
"Our No 6 [at Porto, usually Fernando] sometimes became a more attacking midfielder and we tried to do that here. We decided it doesn't work here, so that's one of the things I have adapted. You lose a little bit of balance in the Premier League if you play that way. Transitions here are much more direct, making the importance of the No 6 to stay in position most decisive."
He's also adapted the way the defence plays. After the game against Manchester City, Villas Boas said:
"We set out today on a medium block. They were feeling too much attraction to press their short build-up, and in the first ten minutes we suffered a lot. I think we adjusted that, I think the players felt they had to adjust, so they lowered the lines a little bit."
Another adjustment – or perhaps a result of these two adjustments – is that there hasn't been such a strong emphasis upon keeping hold of the ball. The below graph shows that Chelsea have been outpassed in five of their last six games – before that period, only twice in Villas-Boas' 16 games had Chelsea not dominated possession.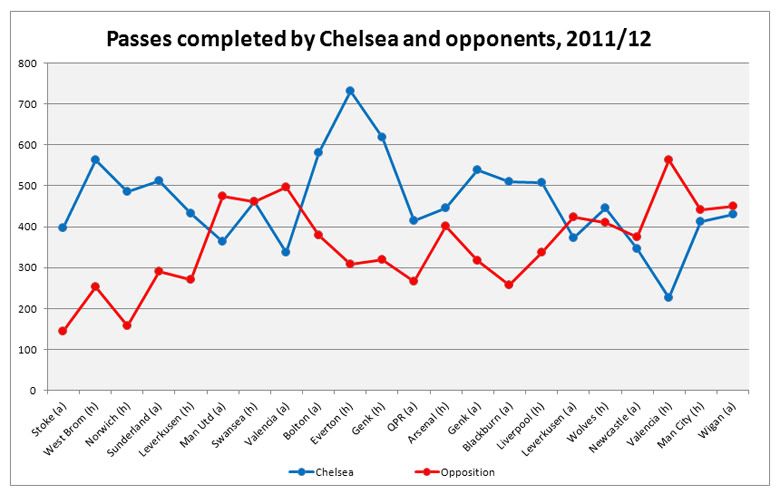 We can also show the same data as a net positive or negative compared to the opposition.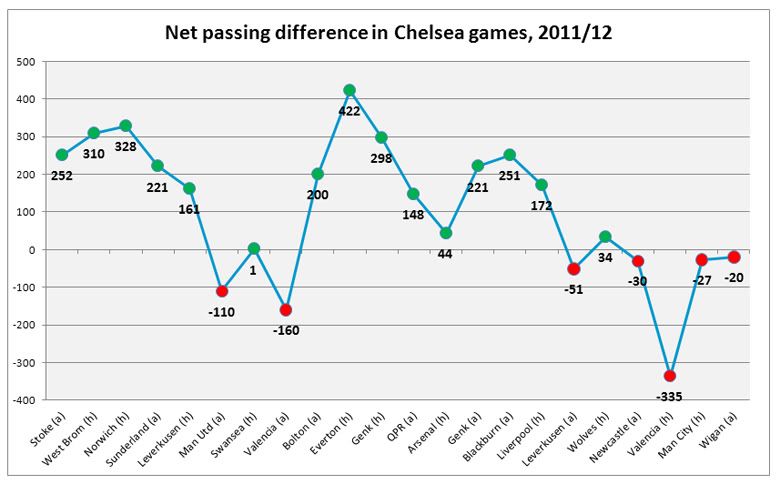 Stats taken from Guardian chalkboards and StatsZone
Incidentally, Villas Boas doesn't believe that a side needs to dominate possession to win a match:
"Not necessarily, for a simple reason. In Portugal we have this idea of match control based on ball circulation. That's what we in Portugal want to achieve in our football – top teams that dominate by ball possession, that push the opponent back to their area. If you go find the top English teams pre-Arsene Wenger, they tell you how to control a match in the opposite way without much ball possession, direct football, searching for the second ball. Maybe now, controlling possession is the reference point for a top team, but that happens because they have much more quality players than the other teams, so it would be wrong not to take advantage of those individual skills."
Also, it's important to note that there is no intended implication here that Chelsea should necessarily be seeing more possession, nor is there any clear correlation between Chelsea's control of possession and their results. But it's an interesting look at how Chelsea have become a more reactive side than Villas-Boas intended in his opening weeks.
If you are thinking of placing a bet on an upcoming football fixture and are not sure where to get the best of the latest betting offers, then come to bwinbetting.com/ today and find out how to claim your £25 free bet!
Related articles on Zonal Marking: