An advantage to be in Group A or B for Euro 2012 – especially when it comes to the semis
It remains to be seen how the process of today's Euro 2012 draw will be structured, although we can assume it will be convoluted and drawn-out – certainly with long speeches and explanations, and possibly cultural dances from the two host countries.
Often, the first draw involves deciding which groups the seeds go into – A, B, C or D – before determining which sides anyone will actually play. As it happens, this time around Poland have already been assigned to group A, whilst fellow hosts Ukraine have been placed in group D.
When this first draw is made, the commentators often say something along the lines of "At this stage the draw means nothing, it doesn't really matter which group we're in, it matters which sides we play."
But is that true? There is surely a clear advantage (whether or not you're the seeds) from being in Group A rather than in Group D. For this tournament, a side in Group A that progresses to the final will play six times in 24 days – for a side in Group D, it will be six times in 21 days.
In modern football, when players are frequently rested to give them extra time to recover for more important games, and when there's a feeling that being in the Europa League significantly harms a side's performance in the following league game, a difference of three days might be crucial.
Of course, the obvious counter-argument is that a side in Group D has extra time to prepare for the tournament, which is certainly true. But then, so will that team's group opponents, so it's no real advantage. Besides, whenever a player is interviewed before his first game of the tournament, he almost always speaks of the frustration of watching everyone else play whilst sitting around, and is desperate to go out there and get his own campaign underway.
Spain won Euro 2008 despite being in Group D (and did the same in World Cup 2010 from Group H) – which indicates that starting late isn't a barrier to success. However, there's too many variables to say that this disproves the theory that going first is better.
Semi-finals crucial
Because of the structure of this tournament, being drawn in Group A or B will be particularly important at the semi-final stage. The two sides that get to the semis from A and B (they could, of course, be from the same group) will face a side from groups C and D having had two extra days' rest between the quarter-final and semi-final stage.
The first semi-final on the 27th June will be played between a side who played on the 21st against a side who played on the 23rd. Likewise, the second semi-final on the 28th of June will be played between a side who played on the 22nd against a side who played on the 24th. The tournament is structured this way to prevent it being spilt into two halves (which would mean certain combinations of finalists aren't possible from the start, like in World Cup 2002 or Euro 2008), but two days' extra rest is a huge difference at that stage.
In fact, no knockout games will be held with both sides having had the same amount of time to prepare. The graph below shows how many days rest each qualifier will have compared to their opponent going into each game.
Because of various changes to the structure of the tournament since a 16-team European Championship was introduced in 1996, there have only been two previous matches where a side enjoyed two days more rest than their opponents – the semi-finals of Euro 2004. Then, the two sides with more rest, Portugal and Greece, beat the two side with less rest, Holland the Czech Republic. We ended up with a final featuring two sides from Group A.
Summary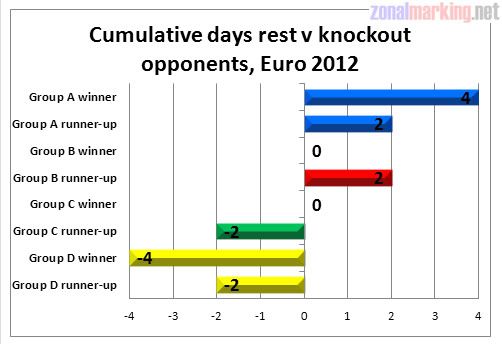 The semi-final stage is where rest will come into play, and there's an advantage of being in either Group A or Group B.
If you win group A, you have, in total, four days rest against your three knockout opponents. If you win Group D, you're always having to play catch-up.

Related articles on Zonal Marking: