Good ball retention starts from the goalkeeper
This week, there have been three obvious examples of sides conceding cheap goals by conceding possession on the edge of their own penalty box.
First, Angel Rangel gave the ball away for Javier Hernandez's winner in Swansea's 1-0 defeat to Manchester United. Then, John Obi Mikel was dispossessed by Charlie Adam for Liverpool's opener in their 2-1 win at Chelsea. Finally, Benfica scored their second in the 2-2 Champions League draw at Old Trafford when David De Gea misplaced a pass.
"It was a bad kick out from David de Gea," said Ferguson of the last incident. "Obviously David should have played the ball into the terracing, but he is confident on the ball and always expresses himself always in that way, so I am not blaming him." Swansea manager Brendan Rodgers was similarly forgiving of Rangel. "I tell them to play this way," he said. "So if anyone is to blame, it's me."
The three incidents were all different – in two of the cases it was an outfield player rather than the goalkeeper making the final pass – but they originated from the side trying to pass the ball out from the back. In these situations it's easy to say that a player should have simply booted the ball downfield to get rid of the danger, but that saves a side from looking foolish, rather than necessarily saving them from conceding goals.
Playing your way out of trouble
In the Rangel example, Swansea may concede two or three goals a season from giving it away at the back, and these examples will be compiled and highlighted as an example of stupidity and negligence. But Swansea will save more goals than they lose through this strategy – by clearing the ball aimlessly downfield you won't concede immediately, but you're giving the ball away and probably handing the opposition another chance to build an attack. If they score from one of those, no-one will blame the initial clearance downfield.
But what's better in the long-term – to concede possession in a dangerous position less than once a game, or concede possession on the halfway line 25 times a game and invite 25 separate attacks from the opposition? Doing the former will invite more criticism, doing the latter will probably concede more  goals. It's a difficult thing to measure statistically, but since only one side in the Premier League (Manchester United) have more clean sheets than Swansea, it's tough to argue that their approach at the back is fundamentally flawed.
Of course, there are times when keeping the ball isn't an option and a clearance is the safest bet. But when Rangel misplaced his pass last weekend, he wasn't under that much pressure. If every Swansea defender cleared the ball when they were closed down that much, they'd never be able to build their passing moves, they'd be hoofing it non-stop and continually under pressure.
Tiki-taka
The best way to defend is proactively, to defend without even defending. In other words, keeping possession of the ball. Spain are masters at this – for all their technical quality, at last year's World Cup they were far better defensively than offensively. They scored a pitiful 1.17 goals per game, but conceded a superb 0.28 per game. They kept a clean sheet in each of the knockout matches.
Tiki-taka was "such a devastating tactic because it's both defensive and offensive in equal measure," said Raphael Honigstein." And as Sid Lowe put it, "For Spain, defending starts with the ball. Put simply: If you don't have possession, you cannot attack Spain. If they control the game, you cannot cause them problems. When you do get the ball back, there is an anxiety to do something with it immediately that it damages creativity…safety first is seen as hoofing the ball miles away. But it is safer to keep hold of it."
Keeping possession has become the way to play football. Long ball football is extremely unpopular and broadly unsuccessful, and even counter-attacking is less obvious than before the tiki-taka obsession started with Spain's Euro 2008 win. Almost every side wants to have possession of the ball for the majority of the game, and a key way to impose this on a side is by getting the goalkeeper to play short. Barcelona's Victor Valdes is a master of it:
Swansea actually bought Michel Vorm to play in goal because he is so comfortable with the ball at his feet. "For us it was then the case of looking to get in the right type of goalkeeper," said Rodgers. "We needed one that was going to suit our style and Michel was one that was on our list. After looking at his style and his game I think his attributes suit us perfectly. He makes saves, which is important for a keeper. But for how we play, we like to build the game from behind, it is vital that the goalkeeper is comfortable with his feet…he is a player that not only does that but he controls the game well from behind and will help us construct the game from the back. He is very quick and very agile so he is similar to Victor Valdes at Barcelona."
Swansea's commitment to build from the back is amazing:
.
by Guardian Chalkboards
Keep possession by starting from the back
Vorm has the fourth-highest pass completion rate of any goalkeeper in the league – and Swansea have the fourth-highest average percentage in the league. Coincidence? Probably not. Here's a graph showing the correlation between a goalkeeper's pass completion ratio, and a team's average possession, from the Premier League games so far this season. (Stats throughout this piece from WhoScored.com)
There's quite a clear pattern there. Chelsea have the highest average percentage, and the best pass completion ratio. Looking at the graph more broadly, all of the sides who average more than 50% of possession (to the right of the vertical line) have a goalkeeper with a 50% or greater pass completion ratio.
The problem comes to the left of the line, when there's less of a clear pattern. This rather shows the limitations of a pass completion rate, because the dot top-left is Stoke. They have a high pass completion rate because Peter Crouch wins all the long balls, not because they pass the ball carefully from the back. (Incidentally, the bottom-left dot is Blackburn, who don't have a Crouch figure but still have a goalkeeper in Paul Robinson who hits the ball long. He has the worst pass completion rate of any player in Europe's major five leagues.)
Therefore, a more accurate measure of passing is the proportion of a goalkeeper's distribution that is short to a teammate rather than hoofed downfield, a figure recorded by Opta, expressed here in percentage terms.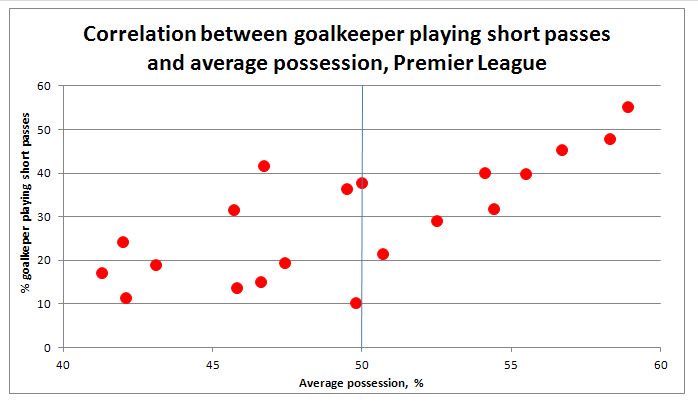 That brings Stoke more in line with the rest of the sides, and the correlation higher up the line are interesting too.
The two anomalies here, incidentally, are Everton (more than 40% of goalkeeper distribution short, but a low possession count) and QPR (the highest percentage of long balls from their goalkeeper, but nearly 50% possession).
None of this proves anything, or suggests much you wouldn't expect, and we have to be careful in cause-effect terms. But if keeping the ball equals good defending, and if playing the first pass short to a teammate is linked to high possession, then goalkeepers and defences shouldn't be too worried by the odd calamitous concession of a goal – in the long-term, they'll benefit from their bravery.
Related articles on Zonal Marking: