The effects of Chelsea's pressing game in 2011/12
Amongst all the nonsense about Andre Villas-Boas being the new Jose Mourinho, the irony is that he's done more to move Chelsea away from Mourinho's overall playing style than Avram Grant, Felipe Scolari, Guus Hiddink and Carlo Ancelotti. In particular, the way they play without the ball.
Though not as much of a purely defensive manager as often made out, Mourinho was a fan of defending deep at Chelsea. The 4-3-3 looked more like a 4-5-1 in the defensive stage, with players asked to get behind the ball quickly and retreat into a deep, compact unit. This idea was more or less continued by his successors – Hiddink was a little more attack-minded but in the biggest games (notably against Barcelona) Chelsea were Mourinho-esque, whilst Ancelotti's Chelsea were often rampant with the ball, but sat very deep without it – Florent Malouda and Nicolas Anelka were asked to move back and become wide midfielders.
Villas-Boas is different. His Porto side featured heavy pressing and a much more proactive strategy when it comes to winning the ball back. In this respect, he shares much more in common with Pep Guardiola (a man he hugely admires) than Mourinho.
Pressing
Frustratingly, pressing is a very difficult thing to prove statistically – at least with freely available statistics, anyway. It's not as simple as pass completion ratios or number of shots attempted: ideally we'd have the data concerning how high up the pitch the defence plays and how much running the forwards get through, for example. B
ecause pressing can result in various outcomes – interceptions won, tackles won, opposition passes misplaced, it's difficult to come up with an individual statistic that answers the question – are Chelsea pressing more this season?
A decent place to start, though, is offside figures. Because pressing involves closing down high up, and because any side (regardless of whether they defend high or deep) has to stay compact to prevent being played through between the lines, a high defensive line is a natural consequence of pressing. Chelsea have notably struggled with this at some points – the home game against Norwich in particular, where Grant Holt kept getting in behind the defence.
But they're still playing high up, trying to catch the opposition offside. As a result, a comparison of their nine games so far this season and their first nine games of last season indicates a significant increase in the number of times the opposition are caught offside.
An average of 4.33, up from 1.67; that's an increase of 160%.
This doesn't prove that Chelsea are pressing more, but it does indicate that their defence is playing higher up the pitch – and there's a clear link between those two concepts.
Fouling
One of the drawbacks with pressing is discipline. Your forwards are closing down and making more tackles, your midfielders are doing the same and sometimes forced into 'cynical' fouls to prevent the opposition breaking, and the defenders are leaving space in behind, making them prone to being sent off for denying clear goalscoring opportunities, as happened with Jose Bosingwa at the weekend (when, incidentally, Villas-Boas coped very well when down to nine men, as David Pleat articulates).
An obvious example of this is the Chilean side at last summer's World Cup. They pressed more than any other side, but ended with more bookings than any other team in the tournament (with the exception of Holland, who played two games more and racked up most of their bookings in the final). They had two players suspended for the Spain match, an three from the Brazil match, and averaged 3.4 bookings per game, compared to the tournament average of 2.04. On the other hand, the side that defended the deepest, the North Koreans (with their odd five/six-man defence), picked up the fewest bookings in the tournament, just two from three games.
As for Chelsea, they are indeed conceding more free-kicks than in the equivalent spell last season.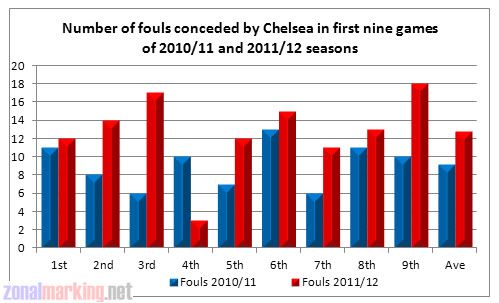 An average of 12.8, up from 9.1 – an increase of 40%.
And that's not all – Chelsea aren't just conceding more fouls than last year, they're picking up more bookings than any other Premier League side, even if a large number came on one game, against QPR. That's quite a turnaround from last season, when they were given an award for having the best disciplinary record in the league.
The bookings can be linked to a more proactive approach without the ball, as can all three red cards they've suffered this season. Bosingwa, as mentioned, fouled when he was the final defender forced to cover a lot space in behind. Didier Drogba and Fernando Torres got red cards for terrible tackles in the opposition half, but would they have been making those fouls last year? Probably not – they've been told to close down and help defend high up the pitch, rather than just dropping back and forming part of a deep barrier that opponents can't break down. Both tackles were more about a lack of tackling technique than pure dirtiness.
Are Chelsea conceding fewer shots?
In a word – yes: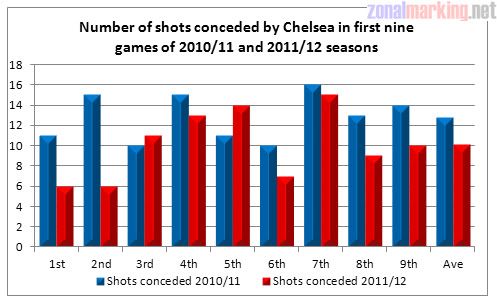 From 12.7 to 10.1 per match, a 21% decrease.
And, more than that, they're conceding fewer shots than any other side in the league. They may not have a particularly good record at keeping clean sheets, but if Manchester United's tendency to concede a lot of shots hinted at a heavy defeat, Chelsea's tendency to concede few hints at an upcoming decent run defensively.
But…
This doesn't take account of the type of shots Chelsea are conceding, and their record of conceding the least number of shots can also be attributed to having the highest average percentage of possession so far.
A deep defence is likely to concede lots of shots but a high proportion of them will be long-range efforts, whilst a higher defence is more prone to one-on-ones, which are naturally very good goalscoring opportunities. As mentioned earlier, this is a particular problem for Chelsea at the moment.
This will be of interest against Arsenal this weekend. Arsenal may have their own problems, but if there's one thing they do have, it's pace. Theo Walcott and Gervinho can come inside from the flanks to get on the end of balls over the top, whilst Robin van Persie is in good goalscoring form, and is an expert at dragging centre-backs high up the pitch. This will be an interesting test for Villas-Boas – should he continue to press and risk being caught out, or ask his side to defend deeper?
Stats are all taken from WhoScored or the Chalkboards
Related articles on Zonal Marking: