Why are Manchester United allowing so many shots on their goal this season?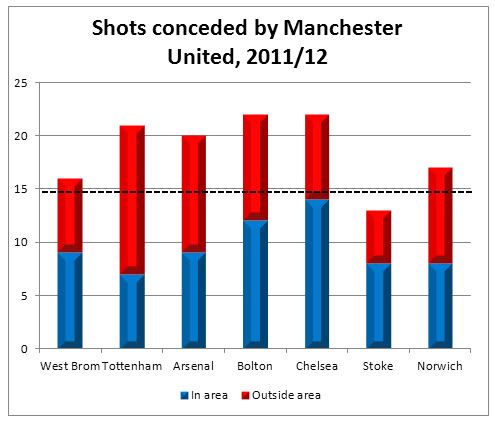 Top of the league, unbeaten and best goal difference – not much to worry about for Manchester United so far this season.
Their defence can take a fair share of the credit for that – just five goals conceded from seven games is an impressive record, especially considering the injury problems in that department, and the fact that ever-reliable stand-ins John O'Shea and Wes Brown have left the club for Sunderland.
A peculiarity in United's season so far, however, is that they have conceded the joint-most shots of any club in the league, 97.
Raw data
This may seem a statistical irrelevance, but the more you consider the type of clubs who concede a lot of shots, the more it seems bizarre. The other side to have conceded 97 shots is Bolton Wanderers, currently bottom of the league having lost their last six games. The three sides who conceded the most shots last season – Blackpool, West Ham and Birmingham – were the same three clubs that were relegated.
For a midtable club to be conceding the most shots would be interesting, for the best club in the league to be doing so is extremely odd, even given the relatively small sample size of seven games played. United conceded the third-least shots in the Premier League last year. From 3rd-best to 20th-best is quite a drop.
As the above graph shows, United have conceded 13 or more shots in every game. The dotted line indicates the average number of shots per side per game in the Premier League this season, 14.9 – which logically, is also the number of shots conceded per side per game. The game against Stoke is the only game where United haven't allowed more shots than the average.
Below, we can also see that in three of their seven games, United have conceded more shots than they've attempted.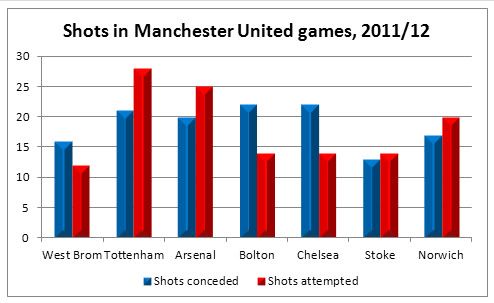 Position of shots
First, it's worth considering precisely where the shots are coming from. Data from the first graph shows that 51.1% of shots are coming from inside the area, and 48.9% from outside the box. The second figure seems high – the average Premier League side is taking 43.5% of shots from outside the area so far this season.
Looking at the 'shots on target' conceded from outside the box is also interesting. United's keeper has been tested 24 times from inside the area, not dissimilar to the average of 21.3. From outside the area, however, the figure is 18 times, much higher than the average of 11.5. Opponents are particularly keen on testing United from long-range (compared to other sides) – the position of the shots displayed below illustrates a further breakdown.
Why?
To return to the question – why? Or, to rephrase the question with the evidence from above, why are United conceding so many shots from long range? There are a few possible answers.
1. David De Gea's perceived weakness from long-range shots?
After letting in Edin Dzeko's long-range strike in the Community Shield, there was a lot of attention paid to De Gea's ability to deal with long shots – in particular, his footwork was questioned. Meanwhile, Opta put out a stat that suggested he had a poor record from long-range last year in La Liga. Is De Gea weak from distance? In this case, the true answer isn't really relevant – the key is that opponents think he is, hence why they've been peppering him from 20+ yards. He's yet to concede a goal from outside the box in the Premier League.
2. Defensive injuries?
Rio Ferdinand and Nemanja Vidic have both been injured, whilst Chris Smalling and then Antonio Valencia have been played out of position at right-back. United's defence has coped well in the circumstances, but there is still a question mark about how much of a solid partnership there is at the back, particularly when one centre-back needs step forward and the other needs to cover, as Fernando Torres' goal at Old Trafford showed. Ferdinand and Vidic had that art perfected, although United have learnt to cope without the former.
3. No true holding player?
It's arguable whether Michael Carrick is a holding player or not, but he's certainly more of one than both Anderson and Tom Cleverley, Ferguson's favoured midfield partnership so far this season. An interesting feature of United's 4-4-2 last season was the use of one calm, intelligent passing player who would remain in front of the back four (Carrick or Paul Scholes) and a runner who would break forward (Darren Fletcher or Anderson). Ferguson was reluctant to use two passers or two runners together.
Cleverley is an altogether different player – more attack-minded than any of the players mentioned above, and the use of him and Anderson leaves too much of a gap between midfield and defence, with no-one screening. Carrick, whilst far from the tough tackler some still favour in that position, is very good at tracking and intercepting. United might well be a better side overall without him, but defensively they're not as solid.
4. Rooney working less?
As Stewart Robson recently mentioned, Rooney's run of form as a true number ten has coincided with him running less without the ball. He worked extremely hard when fielded wide as United were dominated by Cristiano Ronaldo, and did the same when used as a lone forward. Now, epitomised by his lax tracking of Sergio Busquets in the Champions League final, the start of United's problems in midfield in that game, he doesn't work as hard to close down. As a result, the midfielders have to do more work higher up the pitch, and leave gaps in behind.
5. More fluidity = less structure?
The Community Shield performance was a marked difference from United last season. In 2010/11 they were linear, well-defined and organised. Now, they're much more free-flowing and flexible. As a result, they're more likely to put together great attacking combinations, but also more likely to be opened up by opponents in midfield. The identity of players as a result of this change has also contributed – with a fluid system you'd favour Ashley Young and Nani over Park Ji-Sung and Antonio Valencia, but the latter two are clearly much more disciplined players.
Conclusion
Five possible answers that all have their merits. De Gea's reputation as being dodgy from long-range is clearly a contributing factor, but the combination of the final three points, which are all interlinked, is also worth consideration. If Rooney doesn't close down, then Cleverley and Anderson will surely be exposed by top-level opponents at some stage.
Perhaps the most obvious reason initially, the defensive injuries, seems less of a factor. Evans, Jones and Smalling have all impressed – the issue is higher up the pitch.
Still, United's defensive record is nothing to worry about so far, and the improvement in attacking potential compensates for the question marks when United don't have the ball. Still, we can't rule out the odd game where United's defence looks vulnerable, and they end up conceding a few goals.
.
.
Related articles on Zonal Marking: