Set-pieces dominate the first week of the Copa
For a tournament often hailed for its flair and unpredictability, the Copa America has clearly been lacking excitement.
So far, the goals per game count stands at a pathetic eight, from seven matches. That gives a goals per game rate of just 1.14 – roughly half the goals per game rate of last summer's World Cup, where the figure was 2.27. There have been three 0-0s, and only Chile have scored more than once.
Further analysis of the method of the goals reveals that – five of the eight goals have been scored from set-pieces. Only three have been from open play – Paolo Guerrero's cool finish after a long ball against Uruguay, Luis Suarez's quick shot in that same game against Peru, and Adrian Ramos' winner against Costa Rica.
The other five goals have come quickly after set pieces. The ratio of goals scored from dead ball scenarios is generally between 30-40%, but so far in this tournament it is 62.5%.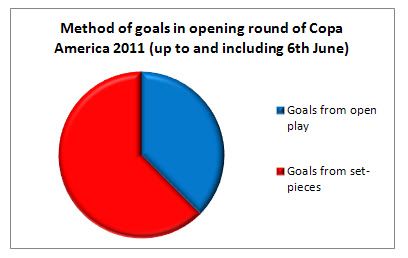 It's not as if teams are actually scoring a greater number of goals from set plays, simply a greater proportion. To take a 'normal' number of goals per game (let's take the ratio of the World Cup, 2.27) and multiply that by the number of games so far (7), we could have expected 15.89 goals.
Since the 'normal' percentage of goals scored from set-plays is 30-40%, we would have expected to have seen between 4.77 and 6.34 goals from set-plays so far. The figure of five is nothing unusual.
The problem, of course, is those goals have been obvious as there have been few goals scored from other methods. Three goals in seven games from open play is a disastrous figure – and whilst defensive organisation should get some of the credit, it's been obvious that the main problem has been a lack of creativity.
Too many sides are depending upon one player (Lionel Messi, Ganso) for creating chances, rather than possessing a number of skilful players in the side to play key passes. The most exciting side so far, Chile, have been the side who have attacked with the greatest number of players – they're also the only side to score two goals, and the only side to win a game against eleven men. And yet, even Chile's two goals both came from set-pieces.
Hopefully managers will pick a greater number of creative players in the second week and the Copa will improve, as this is a worrying trend.
Related articles on Zonal Marking: