ZM's European Team of the Season 2010/11
A self-explanatory list of eleven starters, and eleven substitutes.
Edwin van der Sar, Manchester United
A disappointing performance in the Champions League final was a cruel way for an outstanding career to end. The Dutchman's 21st and final season of professional football was arguably his best, and it's difficult to remember a footballer in modern times going out at such a high level – Zinedine Zidane may come to mind, but he wouldn't have been considered Europe's top midfielder in 2005/06, his final campaign, whereas van der Sar was the best goalkeeper around in 2010/11. His main quality was not his shot-stopping skills, his command of the box or his ability with his feet, but his ability to inspire calmness and confidence in the Manchester United back four.
—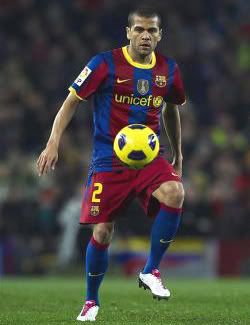 Daniel Alves, Barcelona
In a team full of technical quality, Alves' main threat comes from his physical ability. Opponents know exactly what he's going to do – scamper up and down the right touchline all game, but if they can't compete with his speed or stamina, the Brazilian is almost impossible to stop. His energy levels are quite extraordinary, and he provides the attacking width that lets Barcelona's right-sided forward coming inside without losing the width the club has always loved to play with. Defensively he is occasionally suspect but nothing like the weak link some make out, and his defensive work has often been done preemptively, by pushing the opposing left-winger back into his own third of the pitch, like in the game against Sevilla.
—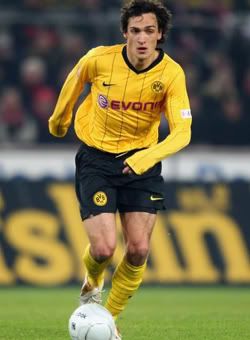 Mats Hummels, Dortmund
Hummels' partnership with Neven Subotic was Europe's best this season, but there was no doubt who the main man was. Hummels went from 'promising' to 'world class' within the space of a few months, consistently turning in superb displays and attracting attention even in a side full of star performers in 2010/11. Hummels is an intelligent, composed defender who is positionally excellent and has great anticipation skills – he rarely dives into tackles, demonstrated by the fact he only picked up two bookings in the league all season, and has a great leap for aerial contests. He's also useful on the ball, and scored four times with headers, including the clicher in the crucial away win at Bayern.
—
Thiago Silva, Milan
Serie A's best defender has an even more enviable disciplinary record than Hummels, having collected just a single booking in 2010/11, proving that the best defenders spent as little time as possible sliding around on their backsides. Being the star performer in a backline also containing Alessandro Nesta shows what a fine defender Silva has become – cool on the ground, dominant in the air, he's been Milan's most reliable player by a long way. He even tried his hand at playing in midfield with some success, but it's at centre-back where he will come to be regarded as one of the best in the world.
—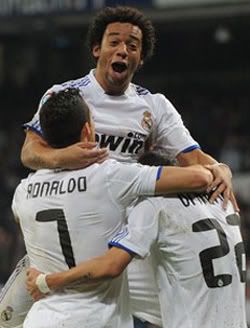 Marcelo, Real Madrid
For the second season in succession, left-back has been a little lacking in quality across the continent. In all probability, Marcelo will not be Real Madrid's first-choice left-back next season, with Fabio Coentrao seemingly on the brink of joining from Benfica – but that's extremely harsh on Marcelo, who is one of three Brazilians to make this side's back four. Like Alves, he is at his best going forward – and his runs were so crucial in Cristiano Ronaldo's record-breaking season – when Marcelo provides width, Ronaldo can come inside and shoot – when Marcelo isn't playing, such as against Lyon, Ronaldo is much less effective.
—
Xavi Hernandez, Barcelona
At the start of the season in which he became Barcelona's record appearance holder, there were reports that Xavi's troublesome Achilles injury would cause him to miss a significant number of minutes this season. Until Christmas, he only completed three league games. Being nursed through the first few months of the season helped him stay fit for the second half of the season, and he ended up excelling yet again – breaking more passing records and coming up with some crucial goals – the opener in the 5-0 against Real Madrid and and 'equaliser' (over two legs) against Arsenal. The consistency of his performance over the past three years is astonishing.
—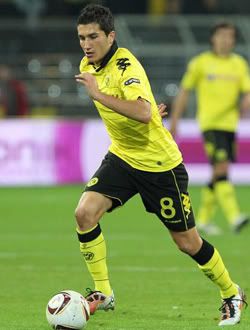 Nuri Sahin, Dortmund
Playing as part of a fashionable double pivot in midfielder, Sahin was frequently the driving force in Dortmund's excellent displays. A busy player but also technically superb, the Turkey international is a complete midfielder – you could ask him to hold, to play a box-to-box role or work as a playmaker, and you'd still be sure of a good performance. Sahin plays clever passes rather than spectacular ones – he moves forward and looks to slide the ball through the defence with his stronger left foot, and his quick thinking has been crucial in Dortmund's transitions on the break. He also came up with some important goals, notably excellent strikes home and away against Bayern.
—
Theo Janssen, Twente
It's often tough to assess the true ability of players in the Eredivisie, such is the difference in quality between top and bottom. Janssen earns his place on this list, however, by his frequent star performances in the biggest games. He scored two in the first league meeting against Ajax, another two (including a superb run from his own half) in the crucial 2-0 win over PSV, and also netted a belting, if ultimately futile, long-range effort in the final day title decider against Ajax. In the four games against two title rivals, five goals is pretty good for a midfielder, and his displays across the season have seen many name him the Eredivisie player of the year.
—
Cristiano Ronaldo, Real Madrid
Ronaldo's goalscoring heroics have become so routine that it's worth considering again what he achieved this campaign – the first La Liga player in history to score 40 goals in a season (from only 32 starts) as well as becoming the first player to win the European Golden Shoe in two different leagues, a record which shouldn't be overlooked considering how many players have excelled in one country, then looked poor in another. He has the ability to completely dominate a game – see the 4-2 win over Villarreal, when he scored a hattrick and set up the other – despite the fact that Real were second best for much of the contest. He also won the Copa del Rey final with a brilliant header that would be regarded as 'classic Ronaldo' if it wasn't for his supreme talent in other aspects of the game.
—
Edinson Cavani, Napoli
Cavani opened his Napoli account just eight minutes into his debut against Fiorentina, and went onto have his best season by some distance. He turned in some magnificent individual performances – his hattrick of headers against Juventus, his double against Roma and his hattrick in possibly the most entertaining game of the season in the crazy 4-3 win over Lazio spring to mind. Able to play wide or through the middle according to how Walter Mazzarri wanted to set up tactically, Cavani was more often than not outstanding in his all-round game, not just in front of goal. Napoli were one of the season's success stories, a side most neutrals loved to watch, and Cavani was the main reason.
—
Lionel Messi, Barcelona
Messi scored in ten consecutive games earlier this season. The game that broke that spell would generally be considered a low point – expect for the fact that it was the 5-0 win over Real Madrid in the Clasico, where Messi picked up two assists and caused havoc with his deep positioning. His role as a false nine has gone from Barcelona's 'alternative' to being their standard shape, and at the heart of a side Messi's influence is at its greatest. Some of the goals he has scored have been phenomenal, and he has the knack of providing moments of genius at crucial times – the brilliant 'three-four' with Pedro Rodriguez against Villarreal in the best technical game of the season, the flick and finish over Manuel Almunia when Arsenal were set to keep a first half clean sheet in Barcelona, the ridiculous run in the last minute of the ugly Clasico first leg, and then the thump past van der Sar in the Champions League final.
Substitutes
Victor Valdes, Barcelona
He often only has to make one save a game – but he generally does so excellently, and also sweeps out of his goal to great effect to enable Barca's high line to work.
Mathieu Debuchy, Lille
Probably not Lille's star performer in their run to the French double, but consistently excellent at right-back – fearsome tackling, powerful running from deep, and composure on the ball too.
Nemanja Vidic, Manchester United
The best penalty box defender on the continent in Europe this season. Supreme in the air, and only failed to make the XI because of a few dodgy displays against pace – notably away at Aston Villa and West Ham – tricky moments Hummels and Silva didn't encounter.
Vincent Kompany, Manchester City
Powerful and pacey, but also good at reading the game and making decisions, and probably City's true leader despite Carlos Tevez wearing the armband.
Fabio Coentrao, Benfica
After a breakthrough season in 2009/10, Coentrao has become established as a key player in the past twelve months – sometimes used as a left winger, but will spend most of his career at left-back, almost certainly away from Benfica.
Arturo Vidal, Leverkusen
Primarily an energetic player but also one with great ability on the ball, and an ability to score good goals.
Andres Iniesta, Barcelona
Injury disrupted his previous two campaigns, but this was his best for Barca, featuring some crucial, brilliant through-balls, for Xavi v Real Madrid (5-0), for Messi v Arsenal (3-1) and Pedro v Real Madrid (1-1).
Mesut Ozil, Real Madrid
A great debut season in La Liga for one of the most intelligent players around. Ozil has the ability to hurt teams both on the counter-attack and when opponents sit deep, and his movement off the ball is extraordinarily good.
Alexis Sanchez, Udinese
Started the season playing poorly on the wing as Udinese lost their first four games – then became a top-class player when played in a new role as a trequartista.
Giuseppe Rossi, Villarreal
Brilliant movement, excellent link-up play, and some goals from ludicrous positions.
Falcao, Porto
A fantastic finisher, particularly adept in the air. Won the Europa League with a trademark header, and consistently scored throughout the season, including five in four games against Benfica and Sporting, and a hattrick in the semi against Villarreal.
These choices are discussed on the first European Football Show, a season review
If you'd be kind enough to vote for ZM here it would be much appreciated! Just three clicks…
Related articles on Zonal Marking: