Have Bolton played 'attractive football' under Owen Coyle this season?
Considering Bolton and Owen Coyle received an enormous amount of praise earlier in the season, it's slightly strange to find them down in 14th place at the end of the Premier League season.
14th place doesn't sound particularly bad, but having flirted with a Europa League place earlier this season, it represents an alarming drop in form in the second half of the season. Considering that the side directly below them – and only three points below them – is Blackburn Rovers, in serious danger of relegation going into the final day of the season, it's remarkable that Coyle has escaped with so little criticism.
Places between, say, 7th and 14th are often regarded as 'midtable obscurity', and there's a perception that it doesn't really matter where you finish within them. It does matter. It matters to supporters who want to see their side finish as high up as possible, it matters to players who may consider joining the club in the summer, and it matters in terms of finances. The difference between 7th and 14th is equal to £5.6m in prize money – a fair amount to a club like Bolton, who are unable to compete with big clubs (or even some of the smaller ones) in the transfer market as it is.
Coyle does have an excuse for his side's dip in performance. Because of the financial problems, the size of the squad is relatively small – and that has been coupled with bad luck on the injury front. Stuart Holden was ruled out for the remainder of the season back in March, and considering he was considered the best player in the Premier League by the Guardian's fans network at the turn of the year, it's been a huge loss. Coyle had to use veteran left winger Ricardo Gardner and departing striker Johan Elmander as his central midfield duo in the final game of the season, which sums up how bad the situation became.
The more confusing aspect of Bolton's performance this season has been the constant praise for their style of football. A couple of very good team goals in the early part of the campaign made this praise somewhat justifiable. It did sometimes reach slightly bizarre levels, though – Mark Davies is a talented player, but he is not 'the English Iniesta' and nor is he likely to ever reach anywhere near that status.
It should be said that a team is entitled to play as attractive or unattractive brand of football as they like. ZM is concerned with tactics rather than aesthetics – Greece was named the best side of the last decade, for example. And 'attractive' is, of course, highly questionable. However, it's generally considered to involve short passing football, an emphasis upon keeping the ball on the floor, and a focus upon technique over physicality.
What makes analysing Bolton's style of football interesting – even ignoring any desire to question the slight exaggeration in some quarters – is that the club's chairman, Phil Gartside, has explicitly said that he wants his side to 'entertain'. At the start of the season he said: "Hopefully we can unify the whole place again, under a leader, and in football terms, under someone who can actually now express himself more on the pitch. After seven years of playing a certain type of football, we've now got to entertain a bit more and recognize that's the business we're in."
Again, you can argue what constitutes 'entertainment' – but the emphasis is clear. "A certain type of football" is not being used in a complimentary way. Gartside wants his side to play more progressive, intricate football.
Has that happened this season? To investigate, let's take a look at eight different statistics from this campaign – four involving passing, four involving the level of physicality. All stats are from WhoScored.com
Factor 1 – average possession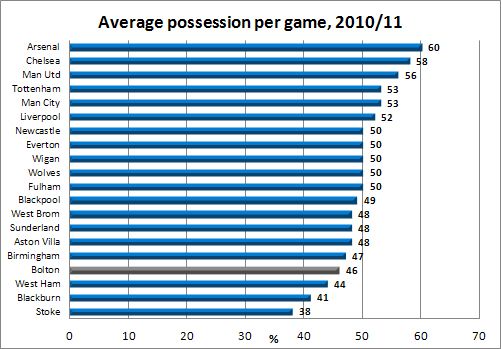 Possession would generally be high for a side playing 'entertaining' football. Barcelona are regarded as the chief entertainers in Europe, and their average possession this season was 73.4%, which is 11.9% higher than any other club in Europe's top five leagues. Similarly, Arsenal – often regarded as the side playing the 'best football' in England, topped the chart in the Premier League with 60%.
It's something of a surprise to see Bolton so low down – fourth from bottom, averaging just 46% of possession. Only long ball merchants Stoke and Blackburn (under Sam Allardyce), plus bottom club West Ham, are below. Even Birmingham, who managed less than a goal a game this campaign, see more of the ball. But possession is only one factor.
Factor 2 – pass completion rate
Knock up a scattergraph comparing possession and pass completion rate, and you'll probably find a pretty good correlation. Again, the likes of Barcelona and Arsenal are up there in the 80 and 90%s. A decent side should be aiming for around 75%. That's probably near enough where you expect Bolton to be.
In fact, they're much lower. They're third from bottom here, again with Stoke and Blackburn. In fact, there's a clear group of three at the bottom. Nowhere along the line is there a gap of more than 2% between sides, and then there's a 5% gap between 17th-placed Sunderland, and 18th-placed Bolton.
Factor 3 – average number of short passes per game
An 'attractive' side would generally be expected to keep the ball on the floor. Arsenal are at the top of this graph, but again – Bolton are in the bottom three, along with our old friends Blackburn and Stoke.
Factor 4 – average long balls per game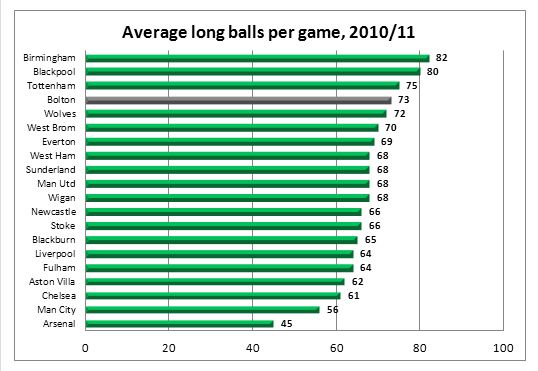 Arsenal are again at one extreme – the least long balls per match – and Bolton are towards the other end. There's a few different names around them this time – Blackpool and Tottenham included – and since those two are generally considered to play 'good' football, this is maybe less of a telling statistic. Stoke and Blackburn are lower down the list, presumably because they don't enjoy enough possession to hit the ball long frequently. Still, it shows that Bolton are keen to hit the ball long.
Factor 5 – tackles per game
Bolton are in a class of their own here – 25 tackles per game. That's far from a bad thing, of course – regardless of how 'attractive' a side is, their manager isn't going to encourage them to try to win the ball back less. Still, it points to the fact that the team is still based around physicality – certainly more than it is based around short passing, anyway.
Factor 6 – aerial duel success rate
Again, this is a positive. Even Barcelona would want a 100% aerial duel success rate, and with a good list of centre-backs to choose from, plus Kevin Davies and Johan Elmander upfront, Bolton are fearsome in the air. But it must be emphasized that this is still what Bolton are best at.
Factor 7 – fouls per game
Not always the best way to judge attractiveness – Barcelona and Arsenal commit a fair number of fouls because they play high up the pitch, and try to stop opponents countering with tactical fouls. Still, Bolton are again at the top – no side commits more fouls in the Premier League, which is not generally considered a typical attribute of a good footballing side.
Factor 8 – disciplinary record
A similar measure here – how many cards each side have picked up. Bolton again have one of the worst records, though it's worth considering Arsenal's similar position.
Conclusion
If you consider attractiveness to be about keeping the ball short and placing technique over physicality, then Bolton do not play particularly attractive football. On these measures of attractiveness – which differ in usefulness, as outlined throughout the article – Bolton are in the 'bottom four' every time. The pass completion rate is particularly damning. Have Bolton really evolved since Allardyce? In terms of aesthetics, it seems not, and in terms of results, Allardyce's final four league finishes were 8th, 6th, 8th and 7th. 14th looks poor in comparison.
These are all raw statistics. The true level of attractiveness can only be considered by an individual when viewing the side, and the fact that Bolton supporters appear happy with the quality of football is far more important than any graph.
Still, these figures only support ideas put forward elsewhere (here and here) – Bolton are still predominantly a physical side, rather than a technically proficient one.
Update
The general thrust of the above argument was put to Coyle by FourFourTwo magazine – he disagreed with the viewpoint.
Related articles on Zonal Marking: