Is Diego Maradona set to surprise people?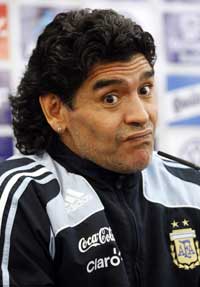 "Maradona's crazy! He doesn't know what he's doing!" is the general attitude towards Argentina's manager since he took over 18 months ago.
The first part is undeniably correct – Maradona is crazy. He celebrated a crucial goal late on in qualifying by diving along a rain-sodden pitch, Klinsmann-style, and when Argentina finally secured qualification, he sat down in the post-match press conference in front of the gathered journalists, and immediately declared, 'You lot take it up the a**e'. He is definitely crazy.
But perhaps, actually – he might know what he's doing. His rant was excessive, offensive and not atypical, but in a sense he's just doing what Sir Alex Ferguson has always done at Manchester United or what Jose Mourinho has done at Porto, Chelsea and then Inter – creating an 'us versus them' mentality to enhance team spirit, which is reminiscent of the last time Argentina won the World Cup, in 1986 – where Maradona inspired them to the trophy under the management of Carlos Bilardo, now acting as Argentina's general manager.
When those two joined forces for their first World Cup, in 1986, they famously felt everyone was out to get them. "We had to leg it out of the country, even the government were asking for my head," Bilardo would later recount. Their sense of triumph in adversity was a theme throughout that tournament, and when Fifa's cameras captured the dressing-room celebration of a demented Diego waving his shirt in the air after the final and bellowing "we dedicate this to all of you, the f***ing whore that gave birth to you", the clip was slotted into an otherwise classy edit of the tournament and released as a successful film, Hero.
Marcelo Mora y Araujo at Guardian.co.uk
Those Inter omissions
Then again, the feeling of incompetence is probably more inspired by his selection decisions. He has called up a ridiculous number of players during his relatively short tenure as coach, but the other side of the story is that Argentina have one of the the most settled first XIs in the tournament.
Arguments about the composition of that XI can go on for days. The omissions of Esteban Cambiasso and Javier Zanetti are both shocking and unsurprising in equal measure – shocking that two Champions League winners and two of the best players in the world in their respective positions have been left out, but unsurprising given Maradona has not shown much love to either since he took over.
But then, how many criticizing Maradona's selection have actually seen Argentina's games to judge the usefulness of either to the side? Zanetti was widely considered to be playing very badly when Argentina were at their worst during qualification. Building a good international side is not about selecting the 11 (or 23) players performing well at club level, and at least Maradona understands that, in his own way.
And besides, now the squad selections have been made, the players omitted are fairly irrelevant. Argentina still have one of the best squads in the tournament, and within that, a solid first XI. Whereas England are still trying to find their best shape and seemingly have no idea who to play in the fairly crucial central midfield roles, Spain have a dilemma about whether to play one or two strikers, and France appear to have stumbled upon a brand new formation days before the World Cup, Diego Maradona's Argentina line-up has been predictable for months.
The starting XI
So let's just say it then – Sergio Romero in goal. A back four of Nicolas Otamendi, Martin Demichelis, Walter Samuel and Gabriel Heinze. Javier Macherano sitting ahead of the defence, with Juan Veron as the deep-lying playmaker. Angel di Maria on the left, Jonas Gutierrez on the right. Lionel Messi playing in a classic No 10 role, and Gonzalo Higuain as the striker.
With the exception of Walter Samuel, those players started in Argentina's last day 0-1 victory in Uruguay to seal qualification, and that exact XI started Argentina's friendly away in Germany in March, also a 0-1 win. Who would have thought it, taking pre-World Cup friendlies seriously and giving your chosen eleven time to gel? It seems like a rather good idea – maybe it'll catch on.
The pre-tournament friendly
Argentina's final friendly before the World Cup was a rather tame affair, a 5-0 thrashing of a half-hearted Canada side, who were missing many of their best players after a predictable club v country row, it being the middle of the Canadian season.
Argentina, too, were without key players – having contested the Champions League final just two days before, central defenders Samuel and Demichelis were unavailable, although this barely mattered considering Argentina rarely needed to defend against a feeble Canadian attack. Nicolas Burdisso came in at centre-back, Otamendi shifted across from right-back next to him, Gutierrez moved back to right-back and Maxi Rodriguez came in on the right of midfield.
They were also without Messi, who had picked up a knock in training, and was replaced by Carlos Tevez. The final deviation from Maradona's favoured XI was an appearance for Javier Pastore ahead of Juan Veron – and if anyone is to test Maradona's conservatism, it is Pastore. A skilful, creative attacking midfielder who has been wonderful for Palermo this season, Pastore is another fairly classic Argentina No 10. Messi's brilliance has largely kept Pastore away from the inevitable 'New Maradona' tag (interestingly, Pastore's former Huracan teammate Matias de Federico has been labelled 'The New Messi', which seems like quite a watershed moment in football) but having been largely ignored when playing in Argentina, Pastore is now one of those players you feel might just come from (relatively) nowhere to have a big impact at the World Cup.
Full-backs who aren't allowed past the halfway line
Despite the absences, the basic shape of the team remained clear against Canada. Firstly, this is as 'flat' a flat back four as you will ever find in any top-class side in the world. Maradona has repeatedly insisted that he wants his defenders to purely defend, and despite us being at a stage in football where rampaging full-backs are all the rage and are arguably the most important players in the team, Maradona does not want his to attack. "Why do they need to cross the halfway line?", he recently asked. "That's what my wingers are for."
Gutierrez's natural attacking instincts meant that he naturally got forward more than Otemandi would have at right-back, but on the opposite side Gabriel Heinze largely followed his instructions – being involved in build-up play and receiving the ball from midfield when it was on his side of the pitch (don't think that the full-backs are literally shying away from the ball), but when the ball was in possession on Argentina's right, Heinze stayed level with his two centre-backs.
The defensive nature of the full-backs means Argentina can afford to play only one holding midfielder, when many sides play two. Mascherano plays a role both more energetic and cultured than with Liverpool, where he is used to having Lucas alongside him. He is forced to cover a greater amount of the pitch laterally (where at Liverpool, Lucas would cover one side of the pitch) and also plays more ambitious passes – he has one fewer central midfield colleague, and of course, the full-backs are rarely an attacking outlet.
Considered attacking style
Veron's role in the side is near enough that of a deep-lying regista, although he does look to move forward and support the attack when the ball is wide. Against Canada, his replacement Pastore played much higher up the pitch, looking to drop back when out of possession, but generally looking for a straight, direct forward pass from Mascherano, rather than the shorter, simpler balls Veron would prefer to receive. Pastore effectively plays one pass ahead of Veron – Veron will distribute the ball to the attacking players who in turn look to play the killer pass, whilst Pastore will look for the killer pass himself.
Angel di Maria plays on the left-hand side and provides a genuine goal threat from a wide area – against Canada he curled a beauty into the far post with the outside of his foot – whilst also covering his full-back well. On the opposite side Gutierrez plays a less flashy, more energetic role (Maxi actually did a good job of replacing him against Canada) in a not dissimilar way to Park Ji-Sung at Manchester United, almost as if he is under strict instructions to make sure he has the highest 'distance run' figure of the 22 players.
Messi plays a central role, in behind Gonzalo Higuain – the two playing fairly fluid roles in terms of moving to the left and then the right in turn, and it's not unusual to see Higuain working the channels in a deep position, allowing Messi to take up a more orthodox striking position. The team is essentially depending on Messi to provide a moment of magic, something he has rarely done at international level so far.
Conclusion
The surprise is basically that Maradona has not gone crazy with attacking players. Carlos Tevez, Sergio Aguero and Diego Milito will be substitutes, and rather than Maradona playing a 4-2-3-1 and trying to cram all his flair players into the same side, he's actually constructed a defensive-minded team based around two banks of four, with only one player, Messi, given anything approaching a free role.
With many sides playing on the counter-attack, Maradona's tactic of keeping five defensive players in strict positions at all times might just make life difficult for opponents. The centre-backs at full-backs might create a new challenge for opposing wingers. Maradona will possess the most talented bench in the tournament with the aforementioned players should Argentina need to change things, and amongst all this is Lionel Messi, the best footballer of his generation.
Argentina should progress past the group stage – but predicting what will happen after that is impossible. But again, it's a Latin American side doing something different defensively which is more than welcome, and whatever happens, with Maradona, it won't be dull.
Related articles on Zonal Marking: