Is Capello set to switch to a three-man defence?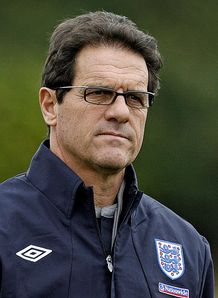 There are strong rumours this morning that, in Gareth Barry's absence, Fabio Capello is considering switching to a system featuring three centre-backs for the World Cup. It would unquestionably be a risky move, completely changing England's shape that was so successful in qualifying, and installing a three-man defence that hasn't been used effectively by England for twenty years.
The BBC report states that "A switch in formation would be a major change for the Italian, who has demonstrated his preference for 4-4-2 throughout his coaching career", which is certainly true, but a three-man defence has not been alien to him. One of his greatest sides was the Roma team that won the 2000/01 Scudetto, by using a 3-4-1-2 throughout the season, with Francesco Totti as the playmaker. The key, as ever, was the wing-backs – Cafu on the right, Vincent Candela on the left – able to get up and down the line non-stop for 90 minutes, and, as converted full-backs rather than converted midfielders, able to defend well.
And despite the decline of the three-man defence in the Premiership, it is still alive and well in Capello's home country this season. Genoa and Napoli have been successful with a three-man system, Palermo have switched between a 4-3-1-2 and a 3-4-1-2 to good effect, and Lazio have also used three at the back (covered in detail at the end of this article), and have looked defensively excellent in recent weeks, despite a poor season overall. It was only two World Cups ago that Brazil triumphed with a 3-4-1-2 / 3-4-2-1 – again, Cafu was involved, with Roberto Carlos on the left, and South Korea reached the semi-final that year with their 3-5-2.
The two instances of top Premiership clubs using a three-man defence this season were both unsuccessful, however – Liverpool away at Sunderland, and Manchester United away at Fulham.
Theory
So why has the three-man defence fallen out of favour? As covered in greater detail here, the problem is that it is only really effective against a two-man attack. With the popularity of 4-3-3 and 4-2-3-1 systems that feature one central striker, it either leaves a surplus or a shortage of centre-backs, depending upon whether the responsibility of marking the opposition wide players is left to the wing-backs (more common) or to the two outside centre-backs. A further problem is that a 3-5-2 system invariably leaves the opposition full-backs unopposed. If the full-backs are now the most important players on the pitch, it is suicidal to give them so much time and space on the ball, which is part of the reason the three-man defence is becoming more often seen in a 3-3-3-1 system (like in Marcelo Bielsa's Chile side) which provides two wide midfield players to halt the progress of the opposition full-backs.
History
England have traditionally been uncomfortable playing three at the back. Some will point to the system in World Cup 1990 as proof that it can work, but frankly that was in a different era of football formations, as the aforementioned developments demonstrate. More recently, Steve McClaren's 3-5-2 was widely seen as a disaster when England lost away in Croatia in qualification for Euro 2008. Perhaps the most worrying lesson from that day was the fact that the formation, in theory, was correct. As Jonathan Wilson outlines towards the end of Inverting The Pyramid, the system was entirely logical, because Croatia were one of the few European sides left playing two out-and-out strikers. The system failed not because it was wrong in theory, but because the players were completely uncomfortable in it.
The key, as with any change in system, is that the players understand where they are supposed to be in every instance. Tony Adams outlined in his autobiography, how Terry Venables convinced him that a three-man system could work:

"At the back, Terry put more time and effort than anyone into actually carrying out ideas rather than just playing lip service to them. Like three at the back. He would tell you where you should be in a given situation and he liked me, as spare man, to step ahead of the two markers to track a deep-lying attacker or forward midfield player, so that we didn't lose the all-important numbers game in midfield. When I expressed a concern that I was leaving the middle exposed at the back, he simply explained to me how I should drop into the backline when the opposition sent the ball wide."
Capello will doubtless be surprised, if he does decide to switch to a three, at how unaccustomed his players are to the shape – in Italy, players are able to switch between a four- and a three-man defence at will. Adams' quote shows that English  players are more than willing to embrace the change (Adams later outlines his preference for a three-man system despite having the vast majority of his trophies with Arsenal in a four), but they need to be given the most basic instructions on how to carry it out.
Composition of the side
The most surprising aspect of Capello's idea about a three-man defence is the fact that – obviously – it necessitates playing an extra centre-back, at a time when there are fitness doubts about Rio Ferdinand, Ledley King and John Terry (though he now appears to be perfectly fit). That said, if they all manage to prove their fitness, England are probably stronger at centre-back than any other area of the pitch, with Michael Dawson and Jamie Carragher also featuring in the squad, and so the three-man defence may suit England in terms of raw quality of the starting XI.
Wing-backs are crucial in a 3-5-2, and have an extremely difficult job. Positionally, they are expected to provide a wide attacking outlet for the central midfielders, whilst also having a duty to get back alongside the centre-backs in certain situations. This results in a need for extremely fit players, and the much-talked about 'cooler climate' of South Africa (in comparison to the last few major tournaments) will unquestionably play in to England's hands if they play this system, since wing-backs in a 3-5-2 probably get through more running than any other position in any other formation. In Ashley Cole and Glen Johnson England have two fit, athletic wing-backs – although both have had injury problems recently – and both are at their best when getting forward to support the attack, so may embrace wing-back roles.
The real question concerns what Capello would do with his  three central midfield players – after all, the loss of one of them is what is prompting this apparent re-think. It would presumably mean Steven Gerrard and Frank Lampard together, which didn't work in a 4-4-2, but in a three-man central midfield it has potential – even if both would probably prefer the most advanced role of the three. The final, deeper midfield position could well fall to Michael Carrick. Off form he may be, but with considerable Champions League experience in a three-man midfield, he might be best-suited to the job. ZM has previously put forward the idea that Carrick could be extremely important in a three-man midfield for England, after he came on against Egypt at 0-1 down, changed the game and England ended up winning 3-1.
The more popular choice would certainly be PFA Young Player of the Year James Milner, but whether a Milner-Gerrard-Lampard would have the discipline needed is doubtful, and it would depend on how Capello wanted to play his back three – if a 'sweeper' was stepping up into midfield – Rio Ferdinand or Ledley King – then it may work, but otherwise there is surely a need for a designated deep player in the centre of midfield. Tom Huddlestone would be another option, but throwing an uncapped player into such a crucial position would be a huge surprise.
Upfront, relatively little would change, although it would mean Wayne Rooney would have to do more work in wide positions, but he is more than comfortable doing that.
Opponents
Looking at England's World Cup group opponents, the system might actually work very well, since all three sides use a two-striker system. Slovenia have used a basic 4-4-2 throughout qualification, Algeria tend towards a 3-5-2 (England's 4-4-2 struggled against Egypt's 3-5-2, so a switch might help here) and the USA have played a variety of shapes, but seem to favour two strikers.
But then, England should be getting through the group stage anyway. The real test would come in the latter stages, where it's very difficult to imagine how a 3-5-2 would not be taken apart by a side possessing quality full-backs, which would return to the basic problem of the formation. Look at Brazil's formation – that would be very difficult for England to beat with a 3-5-2.
That said, all successful sides need a 'plan B' – the expectation, however, was that England's would be a three-man attack, not a three-man defence. With a month until the first World Cup game, Capello certainly has time to work with his players and make them comfortable in the formation, but it will be a system that not one of his players has ever played in at a top club.
Of course, the story could be nonsense, and Capello might dismiss the suggestion at his next press conference. Either way, it's an intriguing prospect, and ZM will report back from Wembley next Monday.
Related articles on Zonal Marking: