Atletico 2-1 Fulham: Forlan finishes leave Fulham forlorn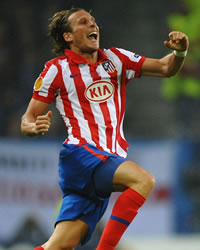 This is the kind of game where the losing side will be described as 'brave' in the headlines, but tonight, maybe Fulham were not brave enough. The game was decided by a scrappy late goal, and Fulham will feel unfortunate to have lost – but the reality is that Atletico were the better side, and the one who showed more attacking intent throughout.
Atletico's formation was as expected – the only slight question was who would start at right-back, where Tomas Ujfalusi got the nod. The two central midfielders sat deep, knocking passes out to either flank, whilst Sergio Aguero had a free role and tended to drift to the left, whilst Diego Forlan played relatively deep for a central striker, confusing the Fulham backline with his movement.
Fulham were also largely as anticipated, and also saw a slight surprise right-back, with Chris Baird in for John Pantsil. A half-fit Bobby Zamora led the line, Zoltan Gera played just behind him, with Dickson Etuhu playing deep infront of the Fulham defence.
Although Atletico started the game on top, Fulham defended well early on. Baird stuck to Simao Sabrosa, and Paul Konchesky was tight on Jose Antonio Reyes, giving the Atletico wide players no time or space on the ball to spin and run at the Fulham defence. The marking on the centre-forwards was slightly less tight – Forlan was tracked across the pitch reasonably strictly by Brede Hangeland, but Sergio Aguero was given slightly more freedom when dropping deep, and he was Atletico's biggest threat throughout the match.
Fulham were occasionally threatening when getting forward. There was little subtlety to their attack - long balls forward to Zamora was the name of the game, and two of his knock-downs created half-chances on the edge of the area for Simon Davies, whose runs in from the left were a clear threat, and Zoltan Gera.
The full-backs on either side were rarely getting forward to support the inverted wingers, which led to a fairly narrow game. The first time a Fulham full-back did get into an attacking position, however, resulted in Atletico taking the lead. Konchesky was caught high up the pitch, and Jose Antonio Reyes sprinted into the space he had vacated – the first time Atletico were really able to counter and use their pace. The ball eventually found its way to Aguero, whose scuffed volley was diverted in by Diego Forlan.
Fulham responded fairly quickly when Davies again took up a good position inside the box and finished well – and although the move initially seemed to have broken down and Fulham were slightly fortunate to get a second opportunity to shoot, credit should go to them for getting four men into the box, and for having faith in their ability to engineer a second chance.
It was a difficult game to call at half-time, but arguably the decisive moment came when Fulham had to replace Zamora, and bring on Clint Dempsey. Zamora is clearly unfit and did well to struggle through the first half, but Fulham's gameplan was forced to change, and they looked less comfortable with Dempsey on.
A major problem appeared to be tiredness. Fulham seemed to hit a brick wall after 60 or 70 minutes, and whereas Zamora's ability to hold the ball up and buy time may have seen them get away with it, Dempsey's desire for neater link-up play was testing the energy levels of Davies and Damien Duff, and Fulham simply couldn't get enough men forward into attack. There was one instance in the second half where Gera and Dempsey briefly found themselves with the ball and with space to run into, but when they looked to the flanks, Davies and Duff were thirty yards behind them and clearly exhausted.
It was also disappointing that Fulham didn't try a simple ball in behind the defence more often – the one time they did, Gera would have been in on goal but for a heavy first touch. This Atletico side is far from solid defensively – 58 goals conceded in 37 league games this season – but Fulham didn't test their back four enough, especially in the final hour.
That said, the Spanish side didn't deserve to be infront either, for they were not creating enough themselves. The fact that Qique Sanchez Flores replaced his two wide players, Simao and Reyes, speaks volumes, especially considering the relative lack of attacking intent from the two central midfielders in their system. The game was as tense and tight as you would expect, which made for a decent spectacle, but in the end it was two similar sides cancelling each other out – similar to Fulham's game in this stadium in the semi-final against Hamburg.
The similarity in shapes meant that there were no free players on the pitch, but the man who found himself with most time on the ball was the Atletico right-back, Ujfalusi. He constantly found himself in space on the right-hand side (especially after the introduction of Erik Nevland pushed Gera to left-wing) but was ponderous on the ball and his delivery was poor. If Atletico had a rampaging right-back to provide a real threat, they surely would have wrapped the game up, but Ujfalusi (comfortable at full-back, but a centre-back by trade) was not the man to unlock the Fulham defence).
As the game went into extra-time, Fulham were hanging on. Murphy continued to retain the ball well, but Dempsey and Nevland gave it away too cheaply, and Fulham's back four had no respite. Hangeland in particular looked on the verge of collapse, and Aguero hit the side-netting from a yard out just before half-time in extra-time.
With Fulham's tiredness plain to see, it's hard to imagine why Hodgson didn't use his final substitution until the 28th minute of extra-time, when Fulham had conceded. Maybe he didn't want to lose his shape (or was keeping penalty-takers on the field), but when the ten outfield players were so exhausted, a bit of energy was required – telling Jonathan Greening to come on and simply run his legs off for half an hour surely would have been a better option than persisting with the awfully tired Gera, for example.
Atletico's winner came in slightly fortunate circumstances, and it was the Aguero-Forlan partnership again which proved deadly. Forlan's strikes to defeat Fulham were reminiscent of the way Pippo Inzaghi pounced twice for Milan to defeat Liverpool in a European final in 2007 – there was more than a shade of luck about the goals, but deep down, you know that the 'sixth sense' goalpoachers like Inzaghi and Forlan possess means you must give credit to them for being in the right place at the right time.
Fulham's inevitable response was to shove Hangeland upfront and hit long balls – and they looked rather dangerous in those two minutes with the Norweigan upfront, as if to emphasize how much they missed the focal point of Zamora. A little bit of luck in the penalty area and the game could have been so different, but even the fiercest Fulham supporter must concede that Atletico were always more likely to get that luck, simply because they got the ball into the area more often.
Related articles on Zonal Marking: